– Quality Blinds, Great Prices
– 10+ Years Industry Experience
– Family Run Business
– A wide range of Blinds available
[site_reviews schema="true" hide="title"]
Our team have over 10 plus years experience, we offer the best options for your home depending on your windows or preferences. No matter the room we offer blinds for your living room, bedrooms, kitchens, bathrooms and living spaces.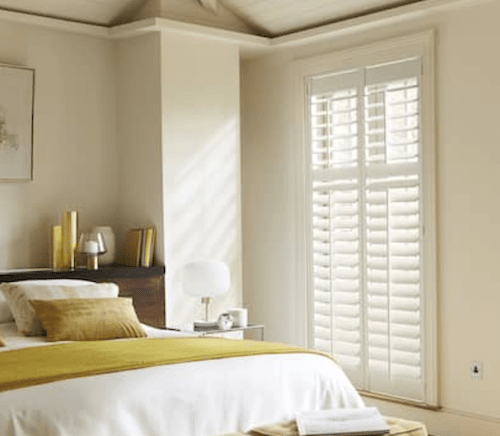 What type of blinds are in style 2021?
A wide range of blinds  are in style at the moment, it's more down to the colours and fabrics. Whilst some blind types are considered out of fashion. You classic roller blinds are very much still a popular blind either in blackout or not. Popular sellers currently are Venetians and Day & Nights. We offer a wide range of fabrics, colours and styles in Livingston.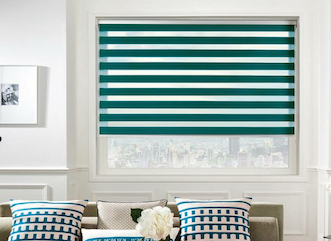 What are the most popular window blinds?
The most popular window blinds has to be roller blinds, these are perfect for so many different rooms, options and fit every kind of colour scheme. We offer these across Livingston. Whilst roller blinds are the most popular, the next in the list would be Venetians, Day & Night Blinds. 
Which type of blinds are best?
This would depend on the room, your current interior design and preference. We specialise in taking you through the whole process for blinds in Livingston. 
For example, a popular choice for living rooms can be Venetians or Day & Nights. Even roller blinds are a very popular choice. For kitchen blinds, it can be best to think about where in the kitchen they are and how easy they are to clean, considering what goes on in kitchens they can collect grime and smells. For bedrooms privacy is always key, using a blackout roller or a day and night blinds that can switch between privacy modes. Depending on how much light you like in a room is a good consideration.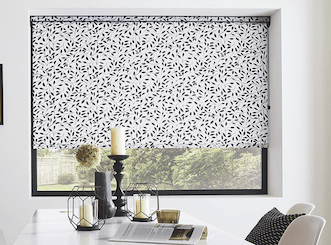 How much should blinds cost?
Considering the huge range of blind styles to choose from budget and spend does come into play. Some styles for homes Livingston can be more expensive because of the cost of materials. For example Shutters are the top end of the market and roller blinds are the bottom, not that roller blinds are a cheap alternative they can come in very luxurious fabrics and finishes. In-between those you have your venetians and day and nights, velux window blinds, mental venentians and even perfect fits for your french doors or windows.  
Rollers are the perfect choice for many rooms in the home such as the bedroom, living room, bathroom and kitchen. Our beautiful made to measure roller blinds come in a wide variety of fabric designs. From very modern and contemporary funky patterned fabrics, to textured and classic plain fabric colours. Each one carefully chosen for quality, design, ease of use and longevity.
For the bedroom we have a very wide collection of patterned blackout fabrics, as well as the most beautiful and luxurious plain blackout colours available. From subtle fabrics to very bright and bold fabrics that are ideal for a children's bedroom or baby's nursery. All these materials are extremely thermally efficient and perfect for blocking out the early morning sunlight that can sometimes be a problem, to ensure a good night's sleep.
Whatever room and window you wish to adorn with a stunning roller, we are sure you will find a design amongst our collection to suit to the décor of your home. Whether you need a roller for french doors, a bay window or perhaps your conservatory, our wide collection of high quality made to measure roller shades means there is a design to compliment and match any colour scheme, and really enhance the look and feel of any window.
All the materials and fabrics we use are of the finest quality, and the components used to manufacture our roller shades are carefully sourced to ensure they will look fabulous and give you years of trouble free operation.
With such a stunning range of contemporary and designer fabrics to choose from we are confident that there is a blind to compliment and add a real sense of fashion to any window. The dramatic and very funky patterned fabrics are the ideal way to create a real focal point in any room of your home, allowing you to really express and reveal a unique and creative style that will be a real talking point.
We have an extensive range of luxury, made to measure, wooden blinds to offer you a diverse range of style for the inside your home or conservatory. Our collections range from a light wood to the high drama of the gloss collection. The soft grain collection with its rich natural finish contrasts with the sheer flawlessness of the perfect grain, while the beautifully formed white wooden blinds and black wooden blinds collection completes this extensive choice of exceptional quality wood venetians.
Wood is a natural insulator, helping to keep the cold out during the winter months while the white stained woods will reflect the sun and help keep your interior space or conservatory cool during the summer.
We have a wide range of ladder tape or trim colours and options to choose from, enabling you to design a wood blind that is truly unique and stylish and will add a very natural and luxurious look to any window of your home.
With only the best components and woods used in our made to measure wooden blinds you can be assured that your wood venetian blind will not only look fabulous, but will give you years of hassle free service.
Whether you require a wooden blind for your kitchen window, bathroom window or bedroom, with our wide range of horizontal wood slat colours and stains to choose from you are sure to find the venetian blind that is right for your home. Each one carefully selected for not only its beauty and natural good looks but to ensure you will have a blind that will give you many years of trouble free operation and sunlight control.
Whatever room of your home you decide to add wooden blinds you are guaranteed to be thrilled with the real look of luxury, style and taste they bring to any window. Whether you go for a dark wood blind to compliment your dark flooring or maybe a picture frame, or a light wood blind to coordinate with your coffee table or other wooden furnishing, they will really help to bring the look together in a very natural and seamless manor.
Vertical Blinds Livingston
Book an appointment to see the stunning range of high quality, made to measure, vertical blinds we can offer you. From our wide range of stylish plain vertical fabrics, to our colourful collection of blackout and plain fabric slats, making it very easy to find a blind that is perfect for the colour scheme in any room of your home, office or conservatory.
We can offer a wide range of stylish plain vertical fabrics featuring colours that range from very natural to very bright fabrics. Our colourful collection of blackout and plain fabric slats makes it very easy to find a blind that is perfect for the colour scheme in any room of your home, office or conservatory.
We can offer you various blackout or patterned fabrics from modern to more contemporary timeless designs, ensuring whatever blinds you buy they will fit your home.
Our customers have used our vertical window blinds for a range of projects from total house projects to creating that perfect environment for the newest addition to your family. If you are looking for vertical blinds offering you the flexibility to control the amount of sunlight and privacy you require in a room then you have come to the right place.
Perhaps your existing vertical blind slats have become a bit drab or frayed over time or through the attention of a much loved pet! If you contact us we can work with you to provide replacement vertical blinds saving you both time and money. We can also provide you with a wide range of accessories including replacement chains and other parts.
Whether you are going for a complete new look or just to update an existing one Cross Blinds will work with you to ensure delivery of the perfect vertical blind direct to your home.
Venetian Blinds Livingston
Here we have the most practical member of the blinds family. They come with a wide range of inherent benefits as standard. Venetians are both stylish and functional making them ideal for any room of the home including the kitchen and bathroom. You will find them in a variety of colours through the spectrum from white to black or a stunning finish of metallic or chrome. We also have a beautiful range of wood (faux-wood) effect or real wood blinds.
Venetian Blinds are custom made to measure blinds that will fit your measurements precisely and offer you the complete control of how much light gets into the room, tilting the slats to direct the light to exactly where you need it, away from the TV or towards a sun loving pet.
The clean simple lines of venetians have for a long time been the favourite with interior designers who demand both style and functionality. They have been installed in homes, conservatories, hospitals and offices, having a wide selection of styles and finishes to really enhance all applications. With extra wide sizes and extra long drops available for large windows.
Blackout Blinds Livingston
We have a wonderful selection of high quality made to measure blackout roller blinds with many colours available, that are custom made to your sizes using only the finest components and fabrics available. They are the ideal choice if you are looking to control the amount of sunlight and privacy you require in a bedroom or any room of the home, whilst adding real style and luxury to your windows. They are built to last and constructed on a heavy duty aluminium roller tube and feature a very high quality chain control mechanism to roll the blind up and down.
With such a wide variety of blackout blind fabrics to select from there is a colour to beautifully match or co-ordinate with any room's colour scheme or interior decor. Blocking out the sunlight in a fun and colourful way has never been easier and cheaper. They offer a substantial reduction in the amount of light entering through a window, enabling a good night's sleep, or if you have settled down to watch a film during the day and want to keep the sunlight off the TV.
As well as cutting out the light, our beautiful blackout blinds are extremely thermally efficient. The lining on the back of the thermal blackout blinds fabric has a dramatic effect on the amount of heat it prevents from escaping through the glass of the window. Conversely it will keep the heat out during the summer months, helping to keep the room nice and cool.
Contact Us Today To Visit Your Home in Livingston
[contact-form-7 id="721" title="Mega Form"]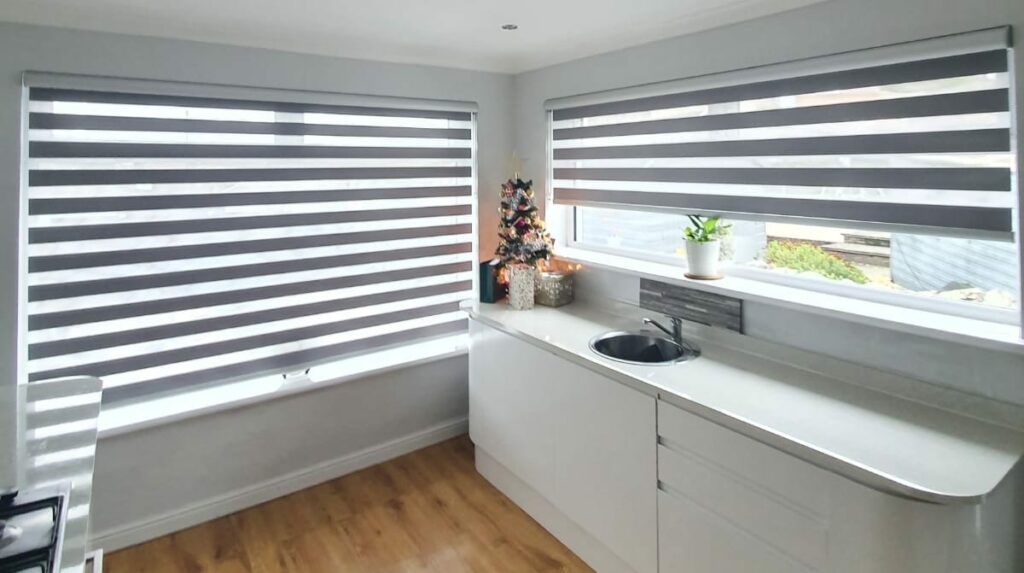 Company Information
Cross Blinds, Quality Blinds at Great Prices. We pride ourselves on the best customer service and products. We continually strive to meet the demands of customers and the products we sell. Always looking for the latest styles, trends and innovations to allow us to always offer our customers the best. 
Cross Blinds Livingston
 07723 082076